Now it has to be said that Michael Adebolajo and Michael Adebowale are as different as chalk and cheese.
In fact on the 22nd of May 2013 Adebowale looked and acted like one of those tramp nutters that you see walking up and down any given high street in the land who make a right fucking nuisance of themselves.
Now, where Adebowale is concerned there is one incident in particular that needs to be discussed, which was also hinted at in the press last December as being the cause of his descent into madness.
Course, if the MSM are hinting at it then you know that its bollocks.
Never the less, for now we will pretend that it is true.
The incident in question allegedly happened when Adebowale was 16 years old:
At 16, Adebowale was seriously affected by the murder of a fellow gang member who was "cut to pieces" when he was attacked by a bare-knuckle fighter, Lee James, in a drug-induced psychotic episode at a crack den in Erith, Kent. Adebowale was stabbed twice in the 2008 attack.
Now I always find it best to go back to the original articles on account of the MSM are fucking liars.
However, because Adebowale was only 16 at the time, he is not named in that article.
Therefore, there is no actual proof that Adebowale was the youth who was there and stabbed twice in the neck.
Never the less, as coincidence would have it Adebowale's assailant was a fella named Lee James, which just so happens to be Lee Rigby's first and second names.
Moreover, Adebowale is of Nigerian extract, whereas the original article states that Lee James' victims were 2 Afghans and a Somalian.
Now, according to the MSM, Adebowale was jailed for 15 months in 2009 for drug offences.
And, it has to be said that is some serious sentence for a 17 year old boy who has never been to prison before.
However, I'm fucked if I can find any record of it so once again, it could all be bollocks.
Indeed, it is my understanding that Adebowale was in the USA during this period.

Okay, lets look at Adebowale's life as told to us by the MSM post 22nd May 2013.
However, I should point out that just like the MSM's detailing of Michael Adebolajo's life story, Michael Adebowale's is even more vague in detail not to mention contradictory.
I will start with the Daily Chimp ( The Daily Mail for newcomers) who like all the other mainstream lying shit rags has been keen to point out that both Michaels were well behaved, well liked lads at school:
Now imagine actually doing that to another human being. I would wager that there are very, very few people capable of doing something like that and then carry on like it is an everyday occurrence to them.
Moreover, I would wager that those who are capable have a long track record of violence.
And that isn't even taking into account the impact of the car crash and the realisation of not only what they had done by knocking Rigby down, but also by what they were about to do.
Therefore, if you believe that Adebowale and Adebolajo – neither with a track record for extreme violence – tried to behead Rigby after surviving that collision then boy, you dumb.
Moreover, by sheer coincidence Adebowale just so happened to have been mentored by Damilola Taylor's father:
His father, who according to most MSM reports had little to do with his son, worked for the Nigerian Government.
It is also worth mentioning that one of the so called Woolwich Angels, Gemini Donnelly also went to Kidbrooke School and in all likelihood would have been in the year below Adebowale – two years below at the most.
Yet we are supposed to believe that Gemini – whom I shall prove beyond all doubt in the near future was a major player in the Woolwich hoax – didn't know him.
Okay, continuing with that last article:
A bit like the two Michaels then.
The article continues:
Oh right!
The J7 article then continues with a quote taken from the Guardian from one of Lindsay's school friends:
Hmmm,
The following is from the Daily Record published May 25th 2013:
There is a bit of a pattern opening up here isn't there.
The J7 then moves onto Lindsay's CONVERSION to Islam and in doing so quotes the Telegraph:
And of course, pretty much the same is said of Adebowale:
Have you noticed how both Michaels and Lindsay were CONVERTS then… Okay.
J7 then goes on to talk about a parking ticket that Lindsay bought… Sound familiar?
I mean, why the fuck would he have put a parking ticket on his car if he wasn't ever coming back to get it?
Yet the script writers came up with the exact same bollocks for the Woolwich fraud:
The following inaccurate snippet is courtesy of the Guardian:
Now, perhaps I am in a minority but I never buy a parking ticket if I'm not leaving the car no matter where I pull up.
So, are we supposed to believe that our two alleged murderers did?
Don't forget, as far as Adebolajo and Adebowale were concerned, they were either going to end up in prison or dead so a parking ticket should have been the last thing on their minds.
And lets face it. They were hardly fucking organised at the best of times.
Moreover, why wasn't the ticket exhibited in an evidence bag as opposed to the jury being shown a photo of it?
Once again, the defence QC's could have ripped the prosecution case to shreds since any cunt could have purchased the ticket.
Was this the defence counsels first fucking appearances in court?
Had I not have known better I would certainly have thought so.
Now, whilst it is very difficult to find information on Adebowale, Adebolajo is a different story.
Mind you, I am in no way surprised because I am 99 percent sure that Adebowale is not who we are led to believe he is.
Anyway, check this out.
In 2007 Adebolajo was supposedly sentenced to 51 days in prison for attacking two coppers outside of the Old Bailey in 2006.
Now, Adebolajo was there supposedly as a protester in support of Mizanur Rahman who was due to go on trial for soliciting murder and using threatening words and behaviour.
However, whilst there is an abundance of information on the internet in regard to this demonstration there is no mention whatsoever of Adebolajo being arrested until after Rigbys murder.
After which, you can't shut the lying cunts up about it:
However, things get a lot stranger where Adebolajo is concerned – if indeed that is his name.
You see apart from the fact that the MSM always use a photo-shopped picture when talking about the incident at the Old Bailey, there also appears to be much more to the demo than is being suggested.
So, before we look at another batch of photos, take a look at this mush:
He is a British spokesman for Al Ghurabaa, a Muslim organization banned under the Terrorism Act 2006 for the glorification of terrorism, that operated in the United Kingdom.
Brooks was convicted on the 17th of April 2008 and given four and half years in prison (reduced by a year on appeal) for charges of terrorist fund-raising and inciting terrorism overseas.
He was released from prison in May 2009.
Oh, and Izzadeen was also amongst the protesters outside of the Old Bailey in late 2006 and was one of those 4 arrested.
However, like I say I can find no record of Adebolajo being arrested that day.
Moreover, whether or not Adebolajo was trying to attack Izzadeen isn't known. Mind you, on paper Adebolajo had plenty of reason to attack him.
The following is from the Dark Politricks website:
Moving on.
Now we all know the story about Adebolajo travelling to Africa in 2010, where he was promptly arrested and subsequently deported – after which MI5 continually tried to recruit him as a spy.
However, according to the MSM the reason he was in Africa was to join Al Shabab.
Moreover – and further proof that the official story is bollocks – the MSM claim that Adebolajo's trip was financed by Sam Lewthwaite, AKA the White Widow.
Course, whether or not Lewthwaite was brought in to give added credibility to the Woolwich fiasco, or vice versa isn't known.
Never the less, to any sane persons way of thinking; bringing Lewthwaite into the mix would only go to highlight how pathetically improbable and totally unbelievable both play acts actually are:
However, since that is bollocks, just ignore it.
You see, like I said earlier, if you want the truth you need to find an original report.
And as it happens, I did… Go me:
Now take note that the above snippet came from an African article as opposed to a British article.
Did you notice the change in Adebolajo's name?
Moreover, there is a serious discrepancy in his age. The following is from Terror Free Somalia website and was published in November 2010:
Now, as it happens a second article from the same website also has 29 year old Adebolajo down as the leader of the 6 arrested:
Moreover, Adebolajo appears to have been released at the request of the British Security Services under very unusual circumstances:
And just so as there is no doubt that Adabolajo isn't Michaels real surname, take a gander at this:
So, if Adebolajo's real name is Mr Michael Olemindis Ndemolajo and he had no criminal record in 2010, then the passport photo below must be false and the MSM must have been lying – as I well suspected – about those 51 days in prison.
However, the MSM wouldn't all make up the same story so they must have all been working to a set press release, meaning that the government were lying.
Neither does Adebolajo's real name tally with what was ordered by the Judge at a preliminary hearing in September 2013:
So why wasn't Adebolajo refered to as Michael Olemindis Ndemolajo in court?
Course, just as with Adebowale & Rigby, it is in fact hard to tell how many people are actually playing Adebolajo.
You only need to look at the following photos which according to the MSM are all Adebolajo to see what I am talking about.
Now its fair to say that the fella filmed in the police interview with a blanket on his head looked fuck all like the Adebolajo who was on Artillery Place in May of last year.
I mean, you would have thought that the old bill would have insisted that he remove the blanket, and had he done so, then we would have been able to decide more accurately if it was him or not and indeed if his alleged broken arm was in fact in plaster.
One thing is for certain though – his voice/accent didn't match that of the Adebolajo that we heard last May.
In fact, this accent became such a problem for the authorities that they had the MSM comment on it:
HOW THE FUCK COULD HE HAVE DEVELOPED A BASTARD ACCENT AFTER SPENDING ONE FUCKING WEEK IN HOSPITAL… Dog give me fucking strength.
He THINKS he crashed into a sign post!!!
Does he not remember the state of his fucking car then?
Fuck me, he walked around it enough!
Once again, Dog give me fucking strength.
Neither does it end there. You see the anomaly about how the two Michaels knew that Rigby was a soldier cropped up again, with Adebolajo – at least the one with his blanket on his head – stating that Rigby was in army uniform when questioned.
Course, we all know that he wasn't. I wonder if that is why he didn't sign his testimony?
Okay, lets re-examine that famous speech of Adebolajo's which the official version of events still maintains was only filmed by one fella on a mobile phone… It most certainly wasn't.
Never the less, what follows was touted on ITV, and as such seen by millions.
And since I proved that it was filmed on at least two different cameras you would have thought that the defence counsel would have done the same in court thus discrediting the prosecutions case.
However, what makes the following ITV article interesting is the fact that Dominique says that:
Now, since he was on the same bus as Ingrid Kennett who says that when she got off the bus Amanda Donnelly was already on the ground, you have to ask yourself how the fuck could he have seen Amanda and Gemini screaming at Adebolajo "stop it, stop, stop, stop"?
Moreover, he swears blind that Rigby was still alive at that point
Course, Ingrid did say that Rigby was bleeding when she reached him, which would indicate that he was still alive.
Then again, on the flip side Amanda Donnelly – who was cuddling Rigby – says that there was no blood anywhere.
I say that its all a load of old fanny designed to muddy the waters in years to come so as the cunts can make up whatever myth they like.
Never the less, here is the ITV article in full: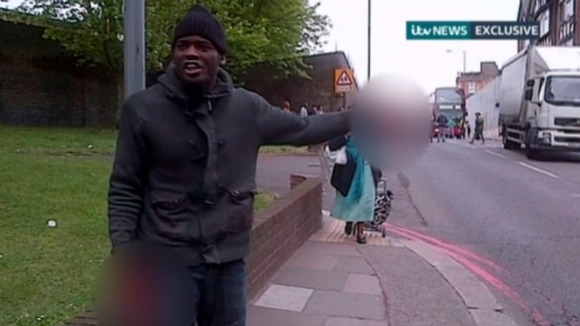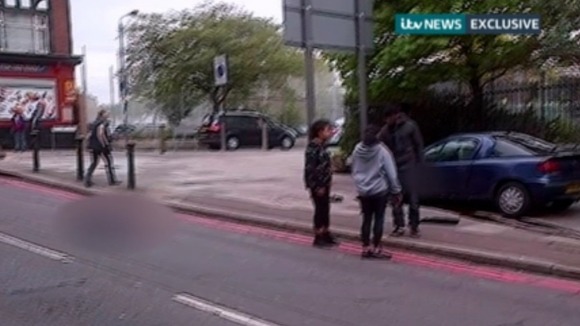 The ladies that were here, they started running to him and screaming 'stop it, stop, stop, stop, he's already dead, he's already dead, he's already dead, stop'. For me they risked their lives for this soldier.

No [I wasn't threatened] because in my mind the ladies were there. If he wanted to do something he would start, first of all, with the ladies before me.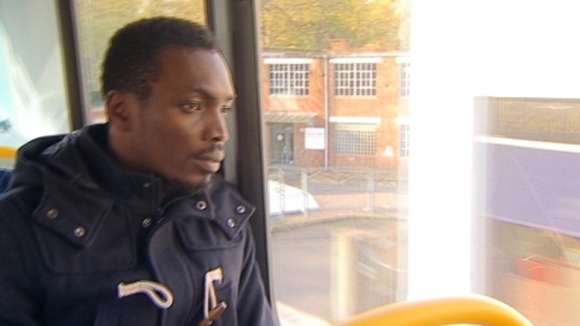 I apologise that women had to witness this today but in our land, our women have to see the same. You people will never be safe. Remove your government, they don't care about you.
He could be Royal Barnes looking at his fucking photos couldn't he?
Now,as well as proving that the footage of the speech was filmed on two cameras, I also proved that the bus had reversed by the time Adebolajo had finished his speech.
Therefore, I see no need to dwell further on either fact, although if the bus reversed during Adebolajo's speech you would have heard it wouldn't you?
Wouldn't you?
Well no, not necessarily as it goes, because like I say it was filmed professionally and I am pretty sure that naughty Michael was wired for sound.
Therefore, there would have been no problem editing out the noise of the bus.
And the fact that Micky Boy was wired explains why he can be heard so clearly… But there is also a lot more going on than anyone other than me appears to have noticed.
Course, there is much more to be told about the 2 Michaels, but I will leave it there for now.
However, how much more proof does anyone need before they cotton on that they have been taken for a fucking ride?